Nombres d'individus dans ce fichier 138,627
Nombres de famille dans ce fichier 49,454
Catalogue généalogique 2020 est enfin disponible
Catalogue généalogique 2020 est enfin disponible

Vous trouverez dans ce catalogue: 20 modèles différents d'arbres généalogiques à remplir, une sélection de 790 d'ouvrages qui vous aiderons dans vos recherches, développeront vos connaissances et resteront longtemps dans votre bibliothèques, des cd-roms, notre revue.

Pour tout achat d'un montant de 75 € (hors frais d'expédition), un cadeau sera joint à l'envoi.

Et retrouver plus de 35 nouveautés…
Qu'allez-vous trouver sur geneactes ?

Pour obtenir un droit de consultation intégral, vous devez au préalable déposer le gedcom de votre ascendance. (par réciprocité on ne peut consulter les données récentes des autres que si on a déposé les siennes)
ses Bases collaboratives par Régions ici
• Des centaines de milliers de généalogies accessibles gratuitement.
Pour faire une recherche généalogique ici
• Un fonds images important, composé de cartes postales anciennes, de photos de famille, de photos des églises, de photos de tombes, de monuments commémoratifs, Fortifications, Caserne militaire, ou encore de blasons. ici
• Une bases de relevés d'état-civil ici
• Des centaines de registres numérisés ici
Pedigree of
Georges Prosper"Hergé"

REMI
Pedigree of
Charles Gérard Ghislain

DUPUIS
Pedigree of
Louis-Robert

CASTERMAN
Pedigree of
Raymond

DEVOS
Pedigree of
Claudine"Maurane"

LUYPAERTS
Pedigree of
Auguste

CHEVALIER

Maurice
Pedigree of
Jean Denis Gaston

PIAT
Pedigree of
Jean

LEFEBVRE
Pedigree of
Jacques Romain Georges

BREL
On this day
No events for living individuals exist for today.
Imprimez vos arbres généalogiques en grand format
Imprimez-vos-arbres.com en partenariat avec la librairie de la Voûte, vous offre la possibilité d'imprimer votre généalogie ascendante en grand format sur le modèle de votre choix (arbre, roue). Vous pouvez personnaliser les caractères le nombre de générations 10, 15, 20 ou plus… Les arbres sont expédiés en colissimo ...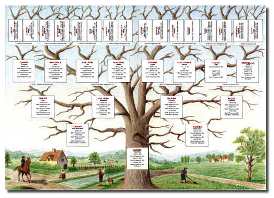 Exemples de prix :
Un arbre ascendant circulaire 10 générations (1,33m x 0,91m) coûte 16,62 €
Un arbre ascendant ou descendant de 6 à 10 générations (3m x 0,61m) coûte 30,00 €
Top 10 given names
Female
Name
Count
COUNT
Marie
10,936
10936
Joseph
3,583
3583
Catherine
2,086
2086
Anne
1,915
1915
Jeanne
1,760
1760
Rosalie
1,111
1111
Louise
1,064
1064
Thérèse
1,027
1027
Françoise
918
918
Ghislaine
861
861

Male
Name
Count
COUNT
Joseph
7,753
7753
Jean
5,950
5950
Pierre
3,479
3479
François
2,828
2828
Louis
2,738
2738
Baptiste
2,704
2704
Jacques
1,884
1884
Michel
1,555
1555
Charles
1,478
1478
André
1,339
1339